Overinvestment, lack of understanding and poor leadership are undermining efforts to modernise
Digital transformation, led by technologies such as AI, machine learning, IoT and blockchain, allows business to move forward faster than ever before, speeding up innovation and shortening product cycles. However, as the speed at which things change increases, so do the management challenges.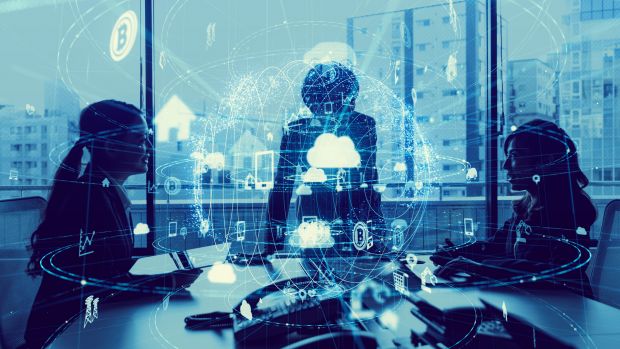 A recent report from Deloitte highlighted that although many C-suite executives say they understand and feel ready for the changes that will come from Industry 4.0, results also showed that a focus on new business models or technologies has created several roadblocks in the development of new strategies.
"Ten years ago, many businesses were able to successfully draw-up strategies and get ahead by embracing emerging technologies and trends that were underway in the market," says Mark Lillie, Deloitte's technology strategy and global CIO programme leader. "The strategy process was relatively linear: assess, shortlist, decide and execute. Now it's simply not enough to make the most of what is already happening in the market and incorporate this into your strategy."
---
'How UK businesses are driving workplace transformation through technology' looks at how businesses and employees view collaboration and more in the workplace.
---
The role of technology leadership
"Leaders are having to take a continuous approach to developing effective strategies through sensing innovations and opportunities, learning fast, and working with industry partners in new ways in order to shape their ambitions."See related How to create a mobile strategy in the age of 5GHow to deal with generational differences in the workplaceCIO strategies for moving to a cloud-first business
Once upon a time, the role of technology leadership was to 'keep the lights on'. However, today's executives must be aware of all the latest technologies, decide which will best advance the organisation's goals and then sell this into the rest of the business.
This is no simple task. Faced with an ever-growing number of new technologies, these leaders told Deloitte there are too many options to choose from and some have difficulty keeping pace with the rapid rate of change and have difficulty understanding all the new technology-driven opportunities.
When looking to implement new technology the most important question is why to invest or make a change. All too often people are seduced by the hype and fall in love with the technology rather than focus on the business problem they're looking to solve. 'Why' comes first – 'what' and 'how' follow after.
Overinvestment and lack of clarity
When it comes to developing your Industry 4.0 strategy, Martin Falch, CEO and co-founder of executive search firm 360Leaders, advises that digital transformation should be approached with caution.
"We've seen examples of major corporates overinvesting, resulting in restructures and huge losses," he says. "Approaching Industry 4.0 needs to start with the leadership and current business needs, then implementing simple technologies to ensure the organisation adjusts to digitisation."
Lillie recommends that executives focus pilot projects around the business' most important problems and to drive value in productivity, efficiency, speed or insight.
"Once the results are measured, the initiative can then be scaled confidently in the knowledge that it is worthwhile," he says. "Pilots focused on the wrong areas will slow down enterprise adoption and increase organisation scepticism."
IT leaders also need to consider how any new technology will blend with legacy systems currently in place – it's no good introducing something 'shiny' up front if it makes all your back-end systems fall over.
Adam Thilthorpe, director for professionalism at BCS, The Chartered Institute for IT, says the answer lies in the idea of good practice, or doing today's stuff well, being merged with next practice, or the idea of doing tomorrow's stuff first.
"It's all about cutting through the hype and what's fashionable, understanding how these technologies will have a material impact on your business," he says. "That's what being a great tech professional is all about. Being good at understanding legacy systems and what's happening today as well as finding out what's coming down the road and understanding its impact on both yourself as an individual and also your organisation."
Eradicate organisational silos
Another roadblock is organisational silos, which a third of the leaders surveyed by Deloitte said was among their top three challenges in developing an Industry 4.0 strategy.
In many organisations, technology continues to be siloed or insufficiently positioned to respond to business needs, which limits leaders' ability to develop and share knowledge across the business.
What's more, as many as 60% of those questioned by Deloitte said that their organisation's Industry 4.0 knowledge was concentrated in a few individuals or groups within the leadership team rather than being widely distributed. Those in siloed organisations were also more likely to say they don't know what skill sets their workforces will need in the future.
For success in the Industry 4.0 age, knowledge must be shared and walls broken down between departments and levels. One example of good practice comes in the form of mentoring throughout the business, helping different departments and levels to better understand the technology landscape and what it means to the business and customer behaviour.
"I've seen a few schemes where graduates and apprentices are mentoring senior executives around the latest technologies," says Thilthorpe. "It's all about people, behaviours and understanding what's really happening. Their insights are absolutely crucial to understanding your own organisation."
But it's also about going outside of your own organisation notes Alan Howard, design and manufacturing lead at the Institution of Engineering and Technology.
"Ask your peers, talk to those who've been through the process of adopting the technologies and read up on case studies telling the story of how and what others have done," he says.
---
80% of employees use email as a primary collaboration tool, despite it not being optimal. Discover more collaboration trends in 'How UK businesses are driving workplace transformation through technology'.
---
"A lot can come from talking to people in other sectors with similar problems – see how they're coming at it from a different way," continues Thilthorpe. "When different organisations get together they can produce quite good insights into what they can do, what the future might look like. Both mentoring and cross-fertilisation of ideas are really important."
There are three key factors every leader will need to ensure they implement for an effective Industry 4.0 strategy concludes Lillie: a full understanding of the technologies involved, a clear vision of how they will lead the implementation of these technologies and, most crucially, a focus on value which extends beyond short-term results.
"This is where to start," says Lillie. "Industry 4.0 should not be seen as unmanageable. It's knowable, understandable and plannable."